VAVO at Sing Dance Crawl at Moonshine Flats
Sat May 27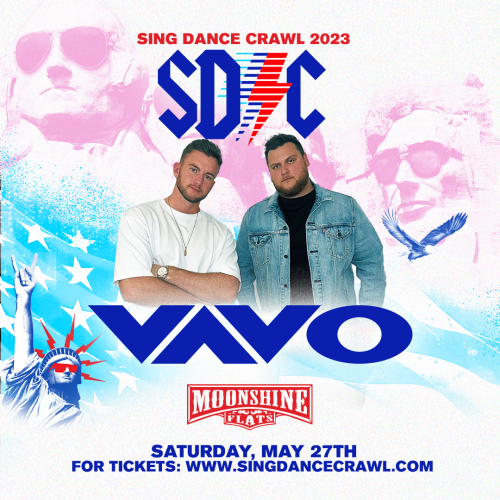 Event Description
BUY TICKETS HERE | PROMO CODE: MOONSHINE2023 ($20 OFF expires 5/12)
Sing Dance Crawl is a party like no other!
For over 15 years, we have come together over Memorial Day weekend to sing, dance and crawl our way to fundraising for The Wingman Foundation! SDC 2023 kicks off on Saturday, May 27th with an extremely lucky group of 2,000 crawlers coming together and celebrating all that it means to be an American. We're packin' freedom, independence, DJs, dancers, and bottle service into San Diego's BEST venues!
So while you prepare your outfits, leave the patriotic party planning to us. Official venues, entertainment, and after-parties will be announced soon!
Billboard charting Dance/Pop duo VAVO seamlessly blends the talents of Vancouver native Jesse Fischer and London born Alden Martin. Despite once being separated by over 3000 miles, the duo found a way to work on music remotely and build a dedicated global fan base.
Their story begins when the duo released their reboot of "Astronomia." It quickly amassed millions of streams worldwide and charted on Spotify's Top Viral 50 in multiple countries. After being heavily supported by Tiesto, The duo was then invited to join the Special Japan Edition of his CLUBLIFE album. All of this earning VAVO the recognition of "Artist To Watch" by sources like EDM Sauce.
Living up to the headlines, the duo quickly rose in the ranks of Dance Music artists and embarked on their first headline tour across the United States. They were featured as BPM Breakers on Sirius XM, took home a #1 on the USA Dance Radio charts and then released global dance hits like "Day N' Night" and "Pieces" via KESS Records. Fast forward to now, VAVO has earned 100 million streams; hundreds of charting positions across iTunes, Apple Music, and Spotify; has been featured in the top DSP playlists, which includes being featured on the cover of mint three times; and are heard on the world's best Dance Radio stations like Sirius XM BPM, Capital Dance UK, NRJ, KISS FM and more.
As the pandemic's grip on the world eases, the next chapter for these future icons begins. VAVO is destined to earn their place among the greats who came before them, as they've only just gotten started.