The Tour - Ashley Cooke - Shot In The Dark with Vincent Mason at Moonshine Beach
Thu Sep 21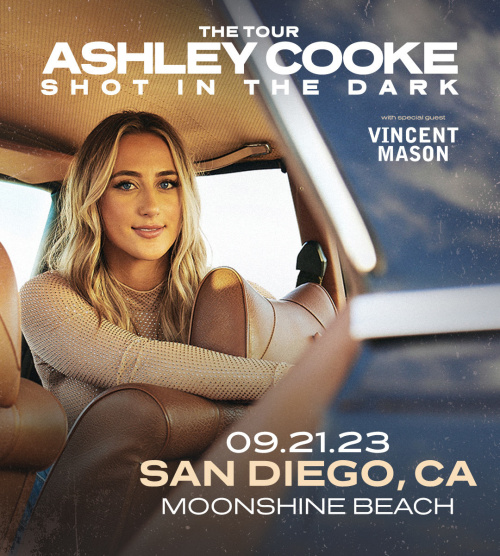 Event Description
With Big Loud / Back Blocks Music Country artist Ashley Cooke, it's best to know what you're getting into – because this emerging star is the definition of more than meets the eye. A graceful exterior matched by a casual-cool nature. Skillfully crafted lyrics and a knack for unforgettable performance. Effortless vocal beauty and a bold sense of internal grit, freely mixing it up with the boys while she rallies the girls. And most important, a passion for capturing the magic between heartbeats, each moment as unique as she is. Still early in her journey, being herself has already served Cooke well. It has led to over 200M global streams with chart climbing hits like "Never Til Now" with Brett Young, Ryman and Grand Ole Opry debuts, national TV appearances on ABC's "The Bachelorette," tours with Cole Swindell, Luke Bryan and more.
Hailing from Parkland, Fla. and moved by emotional hit makers like Taylor Swift, Rascal Flatts, Kelly Clarkson and more, Cooke embraces the energy of pop and depth of Country, writing her first song by age 11. Cooke moved to Nashville at 18 and attended the prestigious Belmont University – but unlike so many others, she did not study music. After entering the schools revered Country Showcase on a whim and winning, Cooke decided to pursue music for a year. When the pandemic had other plans, Cooke went to TikTok where she built a thriving fanbase, writing and sharing Country music on her own terms.
And now, on July 21, the next chapter begins with her debut double album shot in the dark. Unfolding as if they were ripped from pages of her personal journal, Cooke's sun-kissed blend of two-lane pop is on full display in the collection's 24 tracks,inspired by true tales of love, heartbreak and all the moments in between. Fully capturing the essence of a daring twenty-something growing up, chasing her dreams and taking risks, Cooke infuses heartfelt lyrics, captivating melodies and raw relatability as she invites listeners to come along for the ride.
Vincent's hometown of Roswell, GA heavily fostered his love for music. He described its proximity to Atlanta as a "best of both worlds" situation, giving him a balance of the big city and small town lifestyles. His childhood friends listened to a wide array of genres - rap, pop, and country, to name a few - building an impressive set of influences for Mason. "There's just a lot of different vibes there, in one spot," the singer told All Country News.
As Mason grew up, music transitioned from a serious hobby to a dream career. He got his first guitar in junior year of high school, after feeling inspired by what he heard on country radio. A close friend inspired him to write his first song, "Slow Train," during one Christmas break, and now, he's experiencing the beginning of his professional journey.
After college in Ole Miss, he moved to Nashville during the height of the pandemic. The sudden break from school gave him time to keep writing songs, and made him realize that this was his true calling. It was Nashville's Lipscomb University that gave him the final big push to see what Music City was really all about!
"I was by myself, for real, for the first time. What better way to start writing songs and figure out a bunch of stuff about yourself?" reflected Mason of his first few months in Nashville. "It took a while for me to meet people, and get settled - so that was hard, but at the same time it was one of the better things that has ever happened to me."
Mason's newest single "A Little Too Good," not only reflects his growth he has had with his vocals but also his songwriting. His angelic vocals are smooth with a touch of twang, thrusting listeners into the beautifully crafted story. The story blends the heartbreak tales of 2000s country with a hit of more modern style.