Cassie B, Ash Easton and Charlie Rae at Moonshine Beach
Thu Nov 30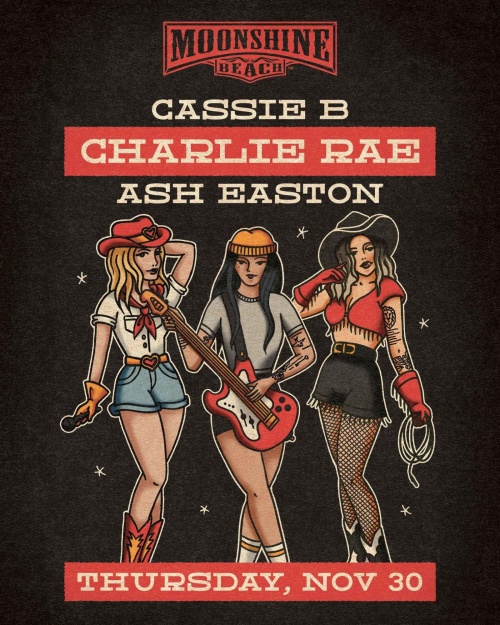 Event Description
TICKETS ON SALE NOW! BUY NOW
With show-stopping talent and extreme passion, Cassie B stops at nothing to create an extraordinary experience you'll never forget.
Not your average San Diego, CA artist, ASH EASTON came to disrupt the music scene. Returning to her roots, and her name, she's ready to light the music scene on fire.
ASH EASTON has spent much of her life perfecting her craft. From vocal training of various styles and genres, to national and international shows, she is well rounded in the art of music. She pulls creativity from artists like Aretha Franklin, Stevie Ray Vaughan, Whitney Houston, Brandi Carlile, and Chris Stapleton. As a Puerto Rican, ASH also finds inspiration from the latin community. Her writing isn't for the faint of heart: she serves it raw and real, but pulls you in with authentic connection, believing that is the point of music.
EASTON is the kind of musician to light your fire: "Her voice is like a shot of whiskey in a snow storm…" one fan says. And with her highly acclaimed band, referred to as "The Proper," they're bringing heat like you've never had before. From ballads to straight rock and roll, ASH EASTON & The Proper perfectly embodies southern rock, and brings new flavor to the genre. Find out for yourself.
ASH is 2023 San Diego Music Award Winning Best New Artist..
Her album, "Rough & Tough," is out now available on all streaming platforms, and is available for purchase on Vinyl.
Hi I'm Charlie Rae, I've been a singer/songwriter for 15 years. My range includes blues, country, reggae, rock and jazz.
I've taken many stages over the years, with the opportunities to open up for artists such as Sheryl Crow, Pat Benetar, Heart and Chris Isaak.
My music is lively enough to keep a crowd happy, while at the same time moving enough to keep them listening and enjoying their night. I provide my own equipment, am always on time and professional. Please consider booking me for your next event.. Thanks!