Anthony Cullins, Whitney Shay and Joshua Taylor & The Unscene at Moonshine Beach
Wed Dec 6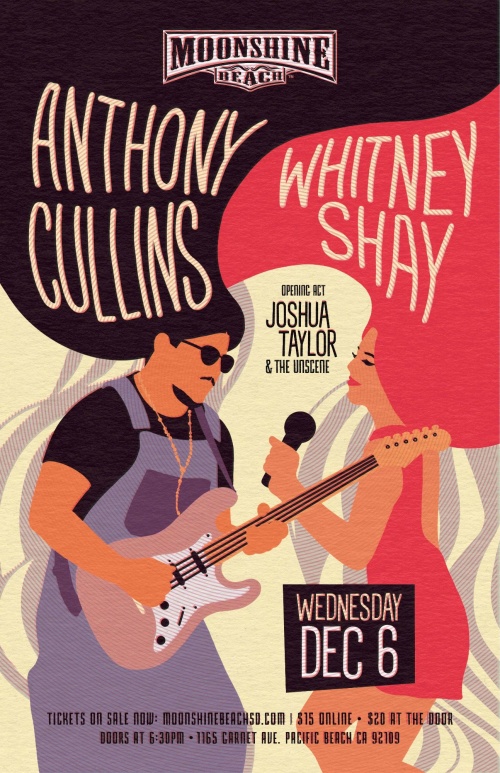 Event Description
Tickets on sale. BUY NOW!
Anthony Cullins - Anthony Cullins aka "The Fallbrook Kid," a young musical prodigy whose guitar playing ability is years beyond his age. Anthony's musical influences include R&B, funk, soul, rock, jazz, and blues prominently displayed in his eclectic improvisational style he calls "psychedelic soul music", ranging from Eddie Hazel and Jeff Beck to George Benson and Eric Johnson with dozens of influences in between. Anthony recently turned 21 years of age and is currently working on two studio albums, a live record, and beginning to hit the road!
Whitney Shay - Whether in studio, on screen, or stage, Whitney Shay's electric energy, soulful style, and powerhouse pipes keep listeners connected and coming back for more. In her hometown of San Diego Whitney Shay has been honored to win 5 San Diego Music Awards (including "Artist of The Year"), and a San Diego CityBeat Magazine "Best Of" Award. Abroad Shay has toured extensively throughout Europe and South America, and was nominated for a national Blues Music Award in 2019.  In 2020 Shay's album Stand Up! debuted at #1 on the Billboard Blues charts. Shay has received high praise from music critics calling the singer "a future blues icon" (Blues Matters!), "one of the next best things in soul music" (Blues and Rhythm Magazine), and "the epitome of a rising star" (Elmore Magazine). Shay's tracks have been placed in TV/film, including shows on NBC, Fox, HBO, Bravo, BET, Hulu, and Tyler Perry's A Madea Family Funeral.
Joshua Taylor - Genre-bending singer-songwriter and guitarist Joshua Taylor is the 2023 recipient of two San Diego Music Awards, for Best Pop Album (Unscene) and Best Rock or Indie/Alternative Song ("Cars Don't Run Forever"). The album is produced by award-winning producer, singer-songwriter, and multi-instrumentalist Jeff Berkley (Jason Mraz, Bob Weir, Jewel, Steve Poltz). Wayne Riker of the San Diego Troubadour notes, "The arrangements are crisp and well thought out… [Unscene] will win your heart upon first listening and beyond."
Hailing from the Heartland, tattered and travel-worn from an ill-fitting decade in the Navy, Taylor stumbled his way into a meaningful midlife identity as a confessional storyteller. His singing and playing bear the marks of a guy who long studied his heroes with dweeby intensity, before reluctantly finding the courage to distill their influences and trust his own creative impulses to craft something identifiably personal. Taylor's sound is very evidently driven by an internal competition between polished precision and dogged earnestness.
Taylor and his wife, powerfully agile and expressive vocalist Sandi King, work together frequently as a backing vocals section, and their tight arrangements have been featured on recordings and live performances by numerous award-winning San Diego artists, including Jeff Berkley, Jonny Tarr, Rebecca Jade, and Lauren Leigh. Their own R&B/soul band King Taylor Project received twin 2023 SDMA nominations for Best R&B, Funk or Soul Song and Song of the Year, for their energetic single "Devil in the White City."
During his tenure with Arizona-based rock band Ponderosa Grove, Taylor opened multiple dates for the Grammy Award-winning Tedeschi Trucks Band, and shared festival stages with a diverse array of artists including Dawes, Katie Pruitt, Lucinda Williams, and Fantastic Negrito.
A highly active and versatile performer, sideman, and session musician on the San Diego scene, Joshua is recognizable on guitar for his tasteful pocket, lush textures, and melodic soloing; vocally for his buttery, soulful style and adept arrangements; and as a songwriter for his evocative confessional lyricism and mature harmonic craft.