Los Muecas & Los Apson Live at Moonshine Flats
Sun Jan 19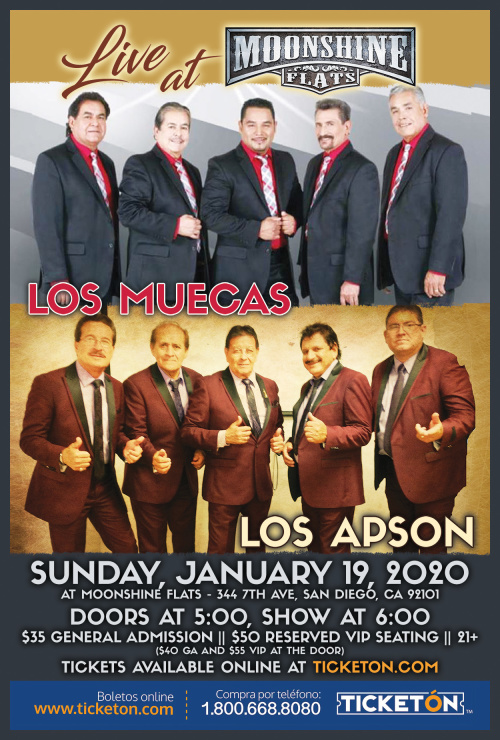 Event Description
Doors open @ 5PM | Los Apson @ 6PM | Los Muecas @ 7:15PM
Los Muecas
The meaning of their name in English is equivalent to The Faces or The Facial-Gestures. This band has been very popular along the Americas as one of the "Grupos Consagrados" of the Romantic Wave in the 70's. It was formed in Mexicali, Baja California Norte, México. Their Front-Man and Original- Vocalist was Jose Refugio "Artemio" Perez Ramirez. (Recorded 1968-1975). His Mellow/High-Pitch makes him the band's ICON, and the good reason to buy their Music. He left the band to pursue a Solo career, to be able to have his own Contracts, and recently retired in the Year 2010, here in the U.S.A. His most re-known Hits includes:"Que Ironía","Sabor Amargo" and "Triste Adiós". After his departure his place was filled in by: Edelmiro "Milo" González(1975-1978) keeping a very similar Style to convince the wide audience. Milo made that mission possible by Ranking New Hits for the band: "'Pa Que Sientas Lo Que Siento","Mi Destino Fué Quererte" and "Amor Sincero". In that Ten-Year lapse, another Singer joined the remaining Musicians, and his name was: Francisco "Pancho" Mendoza in the late 70's. Keeping the band alive for a short period, but their fans continued faithfully listening their music for almost 50 YEARS. A new Singer is taking over to maintain this Musical Tradition called "Los Muecas"….His name is: Alonso Cordero, who's responsability is to keep this great music alive, as fresh as in the Old-Days.
Los Apson
Los Apson Boys, was one of the best Mexican Rock band ever, Rock Frontera.
They started in the city of Agua Prieta Sonora, and they took Mexico by surprise back in the 60's and 70's.
One of the best songs is fue en un Cafe and O Sussie Q, fue todo un sueno and many more songs that they translate from English to Spanish becoming the best rock band in MEXICO, even better that Enrique Guzman and Cesar Costa, and many more, but there music is not well recongnize in Mexico for many reason, so every time you heard Los Apson recognize this great talent from this Boys from the Border town of Agua Prieta Sonora Mexico.