Mic'd Up Music Competition at The Deck at Moonshine Flats
Mon Feb 17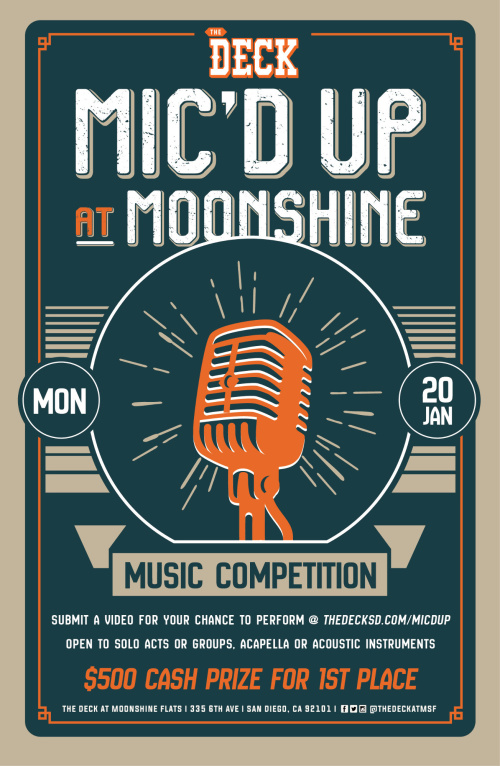 Event Description
SING YOUR WAY TO $500!
Contestants will perform their way to win the grand prize of $500! Come in and enjoy LIVE music, smokehouse bbq and vote for your favorite. All ages are welcomed!
UPCOMING DEADLINES & SHOWS
Submit by 1/1 to perform on FEBRUARY 17TH
Submit by 2/1 to perform on MARCH 16TH
Submit by 3/1 to perform on APRIL 20TH
Submit by 4/1 to perform on MAY 18TH
Submit by 5/1 to perform on JUNE 15TH
MIC'D UP SIGN-UPS
HOW TO AUDITION
Fill out the form and share a YouTube link of you showcasing your talent. Must be a cover song of any genre. Deadline to submit is the first of the prior month of the show date. (ex: deadline to perform in January would be December 1st)
MUSIC COMPETITION
Get ready to be MIC'D UP to win $500! Selected contestants must pick 3 cover songs to perform. A cappella and acoustic instruments are welcomed. Tracks, full drum kits or guitar/bass amps are not allowed.
DETAILS
Mic'd Up is an all ages event. All ages and musical acts are welcomed to audition! Competitors include but are not limited to solo acts, duos and groups. Questions? Contact sing@moonshineflats.com.
TERMS
First place winners may not participate in the next month's Mic'd Up following their win but are eligible to participate in any shows after that.
CLICK HERE FOR MORE INFO.