The Frets and Coral Bells Live at Moonshine Beach
Thu Feb 27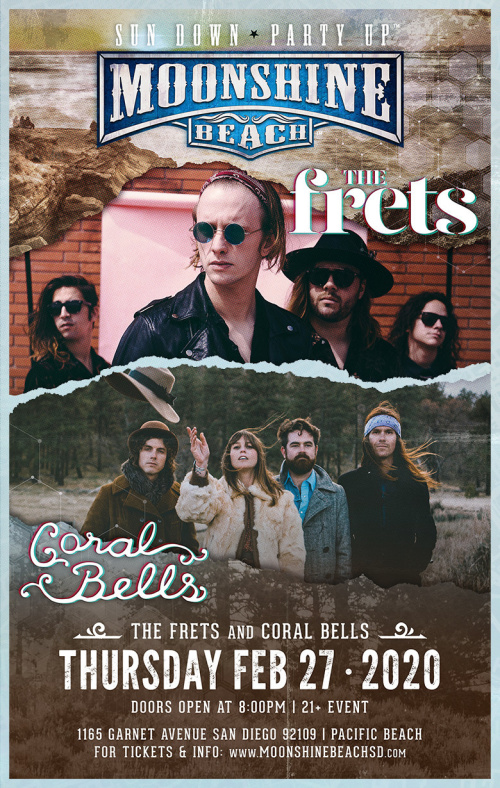 Event Description
There is no need to "fret"… rock is alive and well. British-American 4-piece, The Frets, are proof that indeed - energetic guitar based rock is here to stay.
The Frets truly are a modern day rock band, a testament to how technology can bring together a group across two countries and four cities. "We formed through the world of Instagram, Facebook and late night craigslist" guitarist/producer Cody Seeger explains. "3/4 of us were transplants, with similar taste in music and a passion to make high energy rock music that will make you bounce."
The band currently calls Southern California (San Diego/L.A.) home - although front man, Liam Wilkes, hails from Manchester, UK. "We may only be 25% British… but about 80% of our influence comes from British Rock bands like - Arctic Monkeys, Catfish and the Bottlemen, The Kooks, etc." vocalist-guitarist Liam Wilkes says.
The Frets got their start in Mid 2018 when five time Grammy nominated producer, Billy Smiley, invited the band to Record their debut EP at Castle Recording Studios in Nashville. The nearly two year old group is set for a highly anticipated new EP in April 2020 - following singles in January and February.
In the early summer of 2014 Kaley Morlock (vocals, ukulele) and Joshua McCleskey (acoustic guitar), fled the Oklahoma plains to the most southwesterly shores of Imperial Beach, California. After busking the vibrant streets of Ocean Beach, the two convinced long time friend Jimmy Schmitz (mandolin) to relocate. It wasn't long before the three serendipitously met Boston native, Matt Rogan (vocals, acoustic guitar) who resided down the street. The four members make Coral Bells, an indie folk-and-roll tribe of vinyl junkies and dreamers. In September 2017 Coral Bells celebrated the release of their self-titled E.P., at The Holding Company in OB. The six song E.P. is best listened to while on the road. It's a seaside montage conveying the insatiable desire to roam, live presently and never grow old. Coral Bells is a collective of friends who gravitated towards one another. As much as their new folk sound conjures a pleasantly misplaced nostalgia, being among them conjures up feelings of belonging and being here now.