Randall King with Opening Act, Jake Jacobson LIVE at Moonshine Beach
Thu Nov 18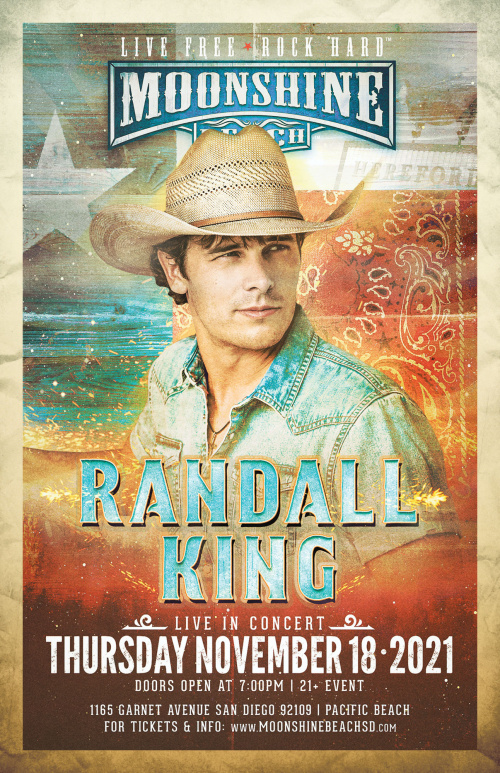 Event Description
RANDALL KING - One of country's new crop of modern traditionalists, Warner Music Nashville artist Randall King has never lived outside the endless plains of West Texas – and his sound is steeped in their timeless beauty, both gritty and graceful at the same time. He grew up singing in the back of a '93 Chevy Suburban, mimicking the pure-country vocals of stars like Keith Whitley, George Strait, Alan Jackson and John Anderson and over the years became drawn to the electrifying energy of modern stars like Eric Church, Dierks Bentley and Jason Aldean. After years of hustling and a road-warrior's diet of 150 shows each year, King produced and released the defiant 2016 EP, Another Bullet, then followed up with a 2018 self-titled album.
Now produced by traditional torchbearers Bart Butler and Ryan Gore (Jon Pardi), King is bringing an organic, timeless sound to country's mainstream – his brand-new track "Record High," available everywhere now, captivates with loaded steel guitar, wide-open vocals and punchy, hard-rocking rhythm. Basking in heartbreak redemption and honkytonk amnesia, it's a sure to be addition to country line dance playlists across the globe. With over 80+ million career streams to his name and more new music on the horizon, King is looking to the anywhere-and-everywhere future with music that captures the essence of a Western poet who's never been afraid to be himself.
Jake Jacobson is a 24 year old rising star on the country scene. No stranger to country music, he grew up around his Dad's honkytonk group "The Shooters" in the late 90's and early 2000's. Raised in a rural logging/railroad town in Northern California, Jake is a throwback kid from the sticks.