Spencer Crandall – The Western Tour with special guest: Avery Anna
Thu Oct 20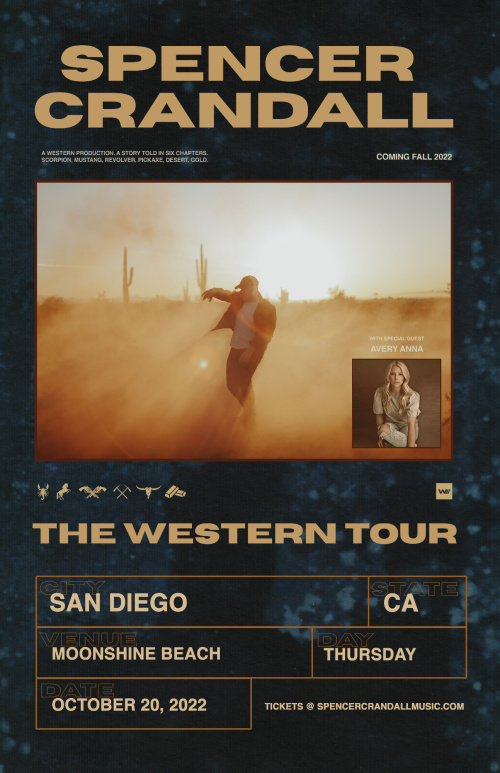 Event Description
Nashville singer-songwriters are known for letting their music do all the talking. But for Spencer Crandall, he goes that one better. He's made it his mission to get to know each and every one of his fans.
How is that possible with nearly half a million followers on social media? For Crandall, it's the only way he knows.
Rewind to 2015, when Crandall was still at Colorado Mesa University, and he was learning how to play guitar in his dorm room after suffering a shoulder injury that benched the college athlete. "I was honing my skills as a songwriter and a guitar player, and I started building an audience online. I would see someone was a fan of a certain artist and direct them to my own cover of their popular song. At the time, I didn't know I was using social media as a discovery tool in the way we know it now, but I'd do that as often as time allowed until I had 100,000 followers."
That dedication to truly connecting one-on-one with Day One fans and new fans has stuck with Crandall ever since. He still won't let anyone on his team take the reins and be his voice on social media. If you get a direct message from Crandall, it's really from Crandall.
"I remember playing at a college fraternity party, and after some covers, I played one of my own songs. Afterwards, when someone asked me to send them the song it felt like if fireworks were a feeling. So I thought, 'What if I could get more people to feel like that?'"
With that exact purpose in mind -- and his parents' blessing -- Crandall packed up his Nissan Pathfinder in 2016 and drove himself straight to Nashville. "My car was packed so tight that if you opened a door, my whole life would fall out. And I knew nobody. I found a roommate through the one guy I knew, and then I started going to writers' rounds – asking everyone I met to grab coffee. I grabbed a million coffees that year I moved here," he says.
And it paid off when Crandall realized that as a songwriter, you're better off in a room with other songwriters. His analogy is that when you play sports at home by yourself and then join a league, you see people who are better than you and you know you have to bring your A game. "That's how cowriting felt to me. I needed to go all in for me and the other writers. Now it's not about writing a song, it's about writing the song. The song that connects with everyone, even though it's specific to what I might be going through. That power of storytelling is what is at the heart of country music to me."
He recalls finding inspiration from other singer-songwriters who moved to Nashville and were not overnight sensations. "Keith Urban had lots of things that didn't turn out, but I admire that tenacity. Same with Luke Combs. If you came to town and got told 'No,' but succeeded anyway, that's inspiring," he says now. And things are different today, because of the way fans find music. "You don't have to wait for the industry to let you in. You can build a fanbase by going directly to them, and always putting fans first. I still spend an hour a day connecting with my fans. People tell me everything."
Those fans have had Crandall's back all along, sending both "My Person" (written with Kelly Archer and Lalo Guzman) and "Made" (written with Andrew Beason, Ian McConnell and Jeff Cherry) to No. 1 on Sirius XM. Both songs showcase what Crandall does best: he gives listeners the vocabulary for something they didn't even know they needed to say. "That is one of the most special feelings. Especially when I'm able to see it from stage as the crowd sings songs back to me," he says, "I could live on that feeling."
That feeling is one he knows well, because he was a bona fide fan himself. "We had all the CDs at home and my brother had downloaded Napster and LimeWire. But then I got my own iPod Shuffle, and it was a game changer for me," Crandall says. Some of his favorites back then were from Kenny Chesney, Rascal Flatts, Randy Travis, Tim McGraw and Taylor Swift. "I loved how unapologetic Taylor's storytelling was. She was like, 'I'm a 15-year-old girl, and I'm going to tell my story about the 15-year-old boys in my math class and I don't care that you might not get it.' But we did all get it. It was so specific," Crandall says, "that it was universal." So even though his friends at the time thought it was cool to listen to EDM and underground rap at parties, when he got in his truck to head home, he'd put on straight-up country.
But country's not all that influenced Crandall. While there was once a section in every music store for every genre, those lines have blurred. Songs from Nelly, Mario, Macklemore, Justin Bieber and more have all made their way into Crandall's headspace and ultimately, into his music.
"My music is not the most country in the world, but it's not not country." That, he says, is what makes his music a bridge for people to come from elsewhere into the modern-era country songs of Crandall's Nashville.
Running the numbers on Spencer Crandall:
Crandall has amassed over 200M streams across all platforms as an independent artist, with two album releases debuting at No.1 on the iTunes country charts. Crandall's hit-song "My Person" has over 52M streams and reached No. 1 on SiriusXM, and "Made" has notched over 19M streams, debuted at No.2 on the all-genre iTunes chart and No.4 on Billboard's Country Digital Songs Sales Chart, and also made it to No.1 on Sirius XM.
From the desert to the mountains, Warner Music Nashville singer / songwriter Avery Anna grew up chasing the Arizona sunsets. She started singing at 10 years old, quickly picking up the guitar and piano, but it wasn't until she started her TikTok channel that she realized her full potential. Hopping in a bathtub for acoustics, Avery began uploading covers – and her videos blew up overnight. Her repertoire spans classic country artists such as Willie Nelson and Patsy Cline to modern acts like Taylor Swift and Kelsea Ballerini. Now with 1.4 million followers and almost 27 million likes, Avery is ready to share her own music with the world. The 2022 YouTube Artist on the Rise has released four tracks, and her single "Narcissist" is already making a statement. A SiriusXM Highway Find, the song has landed on major playlists such as Spotify's New Music Friday, Apple Music's Country Risers and has over 86 million global streams. The Flagstaff native has just begun to take her music on the road, opening for acts such as Josh Turner, Martina McBride, & Parmalee as well as playing overseas for C2C Festival in London. This is just the beginning for Avery, as she steps out of the bathtub and into the spotlight.