CMT Next Women of Country: Maddie & Tae with Sacha & Abbey Cone at Moonshine Beach
Wed Sep 28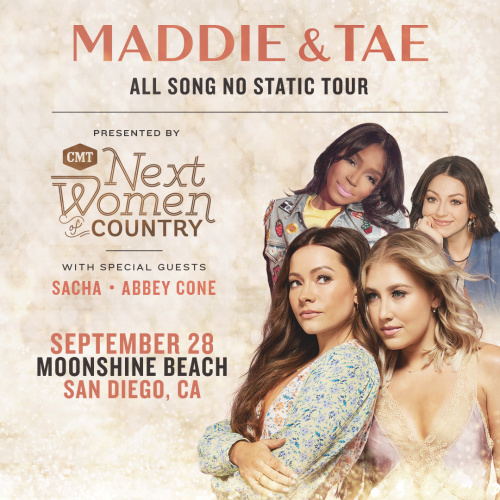 Event Description
Madison Font and Taylor Kerr have this super-power. More indestructible than kryptonite, more attracting than a roomful of magnets. Seeing them sharing a song, it's easy to miss. Or maybe it's easy to discount as a super-power, because it's so natural and obvious.
"Our bond is unbreakable," Kerr says, flashing a smile. "It's really been the key to everything."
"When you've been through as much as we have," Font picks up, nodding her head. "Our relationship is the force that keeps us going. Everything, and I mean, everything fell apart – except Tae and I. It's hard on your heart, your body, your soul. Getting chewed up and spit out is just part of [this business], but having somebody in there with you? It makes all the difference."
"It's hard to be fearless when you don't have someone to trust, to fall into," Kerr agrees. "But with Maddie, I've always got someone saying, 'You got this...' Whether it's real life or a writing room, she's always in there with me – and she knows everything."
"There's an energy of 'We got this...'," Font adds laughing, "That's really the energy of this project. Strip everything away, and it's where and who we are. Doubt and fear are part of the energy for everyone; but we know how it works, how to work through it – and we use it.
"Maybe it's a little selfish, but we don't write for others. It's for us, and it can be a little terrifying because [these songs] are our baby. Sometimes we're really vulnerable, but..."
Laughing along, Kerr finishes, "We've never had a hard time saying, 'No.' There's an expectation with us in a writing room: if something's cheesy or inauthentic, we redirect. Immediately. Because honestly, we have to be honest. If it's not us, we're not finishing the song."
Maddie & Tae have never played around, even when they were cheeky teens writing their own songs. It makes sense they'd call their new record Through the Madness, Vol. 1. If anyone understands the crazy-making world we live in, how falling in love can be a lot like falling down the stairs and dreams coming true can turn into full blast nightmares, they're the ones.
Before they were 20, Maddie & Tae accomplished things many artists never achieve. Speaking truth to power, they ignited a sensation with the self-penned BroCountry skewer "Girl In A Country Song," named one of the Nashville Songwriter's Hall of Fame's "I Wish I Wrote That Song" Award-winners and the Song of the Year in the Nashville Scene's Country Critics Poll. Its hilarious stereotype-flipping video won CMA Video of the Year. Touring internationally, they racked up gold, platinum and multiplatinum certifications.
Facing every turn, falter and crummy boyfriend with built-in back-up, they kept writing. They left a label, rebuilt their sense of how business works, took control of their music on a deeper level, recycling it all into their second #1 "Die From A Broken Heart." It certified gold around the same time it hit Country's Top 40, platinum by the time it summited the country airplay charts, and double platinum a few months later.
Growing into young women, who like so many other 20-somethings, were figuring out how to navigate the world, (re)build a dream, deal with life, they continued leading with their wide-open hearts.
Sassy. Kind. Audacious. Strong. Philosophical. Willing. Ride-or-Die.
Half-joking about being told "Friends Don't" was too smart, they doubled down. From the hilarious calling themselves out on the funky "Woman You Got" to the aching ballad of surviving what was "The Other Side," featuring Lori McKenna, the throwdown kiss-off "Wish You The Best" and the lush wing-babe warning to a cad "Don't Make Her Look Dumb," featuring Morgane Stapleton, Through the Madness, Vol. 1 delivers listeners to the other side of falling in love.
At 26, both Maddie & Tae are married; Tae is expecting her first child. The duo who've won Radio Disney's Favorite Country Act and Favorite Country Song for "Fly," which was also one of NPR's 2015 Songs We Love, know trusting their gut offers a compass unlike any other. So, when the pandemic hit, Maddie & Tae kept writing, shifting to ZOOM and relying on the writers "who felt like family."
"The trust to go into a room and fall apart in front of someone, to write 'The Other Side,'" Font explains, "to really get there, you have to fall apart. And with Tae, you feel safe. Whether the co-writers are prepared for the emotions, she's right there...and knows what to do."
"There are so many songs I'd have never put in the world without Maddie," admits Kerr. "She's sitting there, nodding, watching me start to cry and letting me know that's just where we need to go. Three or four songs on Volume 1 or 2, I'd have never let happen if Maddie hadn't been there."
"Tae will say, 'If you feel like that, imagine how many other people have, too?'" Font continues. 'She's quick to remind me: while we write for ourselves, there's also that part where we want to give these songs to anyone else who's lived them, needs them or that it'll make them feel better."
With the pandemic slowing things down, the pair described by Rolling Stone as "tough-minded and stout-hearted" and New York Newsday as "a heart on your sleeve twang that should fill the void created by Taylor Swift's move to pop," wanted to create. As their writing calendar remained full, the songs piled up; A&R exec Stephanie Wright made a key decision. Rather than only record a handful of the songs being written, Wright encouraged them to continue recording to fill out the rest of the story.
Font recalls, "We were either gonna have an 18-song record, which is a lot to take in – or lose some. But Stephanie kept saying, 'No! No! Go in and record.' And who says 'No' to that?"
Wright also intervened with Stapleton. While the wife of Chris Stapleton once had her own record deal, she rarely steps out on her own. Blessed with a voice of reassuring richness, she gives "Don't Make Her Look Dumb" deeper gravitas.
Kerr explains, "We wrote 'Don't Make Her Look Dumb' less than a month after 'Die From A Broken Heart,' which was five years ago. Everyone loved the song, but Maddie and I felt like we'd already done it. Stephanie asked, 'What if we have Morgane come in as sort of an older sister?' And we were both, 'Oh my God.'"
"She's just so good," Font adds. "We couldn't believe she'd do it. And then there she was – with that voice and her phrasing."
Nashville Songwriters Hall of Fame inductee Lori McKenna also makes an appearance. On "The Other Side," which she co-wrote, the Grammy-, CMA- and ACM-winning writer shines. Font raves, "She's this calm, wise presence. Her energy on the track, you can feel it spreading across the recording. Having her was amazing. Plus, I think 'The Other Side' is a song people really need to hear, so they can trust they're gonna make it through whatever it is."
Retaining that fierce independence and truth-telling, they weathered every challenge, stayed true to themselves and fostered a writing environment that reflected who they were over what more seasoned writers might have thought women wanted to hear. It wasn't about feminism, but knowing they knew.
"The men we write with, they're truly curious about a woman's perspective," Kerr explains. "It's not about writing songs for females, as much as wanting to make it as true to us as possible. All our [men] writers want the perspective and voice to be real."
"And we feel the same way about the men's perspective," Font concludes. "There's a tension that comes from that desire to really understand what the other sex is thinking and doing. That's why I love 'Woman You Got,' because that's us. The line, 'I can't hold my liquor' is absolutely me."
Maddie & Tae exude familiarity. Whether "Strangers," about life before their husbands, or "What It's Like Loving You," there's a fate-steps-in driving these songs. Working from wonder, they know putting your heart, mistakes and pain out there creates a bond with people you don't know.
Font begins. "It takes a lot to get here emotionally, to create these songs."
"I want people to know there's room for all of it," Kerr expands. "You can be a bad ass b-i-t-c-h and aching at the same time. It's okay to be totally in love and have this heartache inside. It's what makes us us – and that probably goes for more people than any of us would ever guess."
"Look at our two 'hits,' they're not typical," Font picks up. "They're so far from traditional, it's hard to believe. But they worked, and that's the thing about following your heart. This world can make it hard to believe sometimes. What Tae and I had throughout this deal: each other.
"What people don't realize is – whomever you are – you have a friend! If you're listening to these songs and feeling them. Tae and I, we've got you! We want to be a safe place to land, a place with hope and joy and understanding. We feel you, and we want you to know you're not alone in all of it."
Kerr laughs again. "In the beginning, it was this 'these two crazy little girls,' and we get it. But even then, we were writing the songs and standing up for what we wanted to say. Sometimes you just need to see somebody doing that. So wherever you are, listen and have faith; speak up if you need to.
"After all, that's what these songs are for!"
Special Guests:
Making a name for herself since the release of her EP The Best Thing in July 2020, SACHA is one of Canada's fastest rising country stars. Becoming an iHeartRadio's "Future Star" following the success of her latest single with the Reklaws, "What the Truck" (10million+ global streams), SACHA has since been named as a member of CMT's Next Women Of Country 2021 class and earned her first GOLD single alongside The Reklaws with their viral hit track "What The Truck," which was the the fastest-ever Canadian country song to go GOLD in the streaming era (under 16 weeks). She recently performed the track alongside The Reklaws to close out the national broadcast of the 2021 CCMA Awards.
Featured in major television, print and online press including CMT, Music Row Magazine, American Songwriter, Rolling Stone Country, Billboard and The Boot, SACHA has also appeared on A-list editorial playlists (U.S. and Canadian) on Spotify, Apple & Amazon Music. A Country Music Awards of Ontario Rising Star nominee (2021), SACHA was the winner of The Next Country Music Star (2016) and has had three of her music videos appear on CMT ("Cheers," "Standards" and "What The Truck"). She'll be heading out on the road across the US in 2022 with Maddie and Tae on the CMT Next Women of Country Tour Presents: All Song No Static Tour.
Abbey Cone first made the trek to Nashville at age 12, actively beginning to hone her craft and find her voice. The Texas native has been singing for as long as she can remember and has focused on building a career in Country music on her own terms, as a young woman writing authentic and emotionally resonant music that connects with the newest generation of Country listeners and beyond. Now signed to The Valory Music Co., Cone brings to the roster her clever songwriting, and an individuality that expresses a palpable realness and vulnerability listeners can feel across each song. With an induction into CMT's Next Women of Country Class of 2020 and named one of Pandora's 10 Country Artists To Watch in 2022, the 23-year-old has already made her mark, introducing herself with "Rhinestone Ring," "Hate Me" and latest track "King Of The World." Gearing up for the release of more of her authentic and emotionally resonant music, her debut collection HATE ME arrives April 22.She has already collaborated with some of Nashville's most accomplished songwriters, such as Lori McKenna, Shane McAnally, Nicolle Gallyon and Jessie Jo Dillon. Expanding on their works, Cone credits her writer/producer Nathan Spicer with helping to find her unique sound as she begins to carve her own path as a performer. Having just wrapped time on the road with Brittney Spencer, you can find more information and tour dates at AbbeyCone.com.